Orveda
Orveda is the brainchild of beauty legend Sue Y Nabi, former president of both Lancôme and L'Oréal Paris. Along with co-founder Nicolas Vu, she recently launched this hotly anticipated line of clean, green, vegan and gender-neutral products, and we were asked to bring the brand's exceptional story and forward-looking vision to life. Determined not to be a standard skincare website – clinical, lacking texture and with improbably perfect models – we also knew the site would be evolving into a full e-commerce space, so we wanted to showcase the roducts in an enticing and user-friendly manner.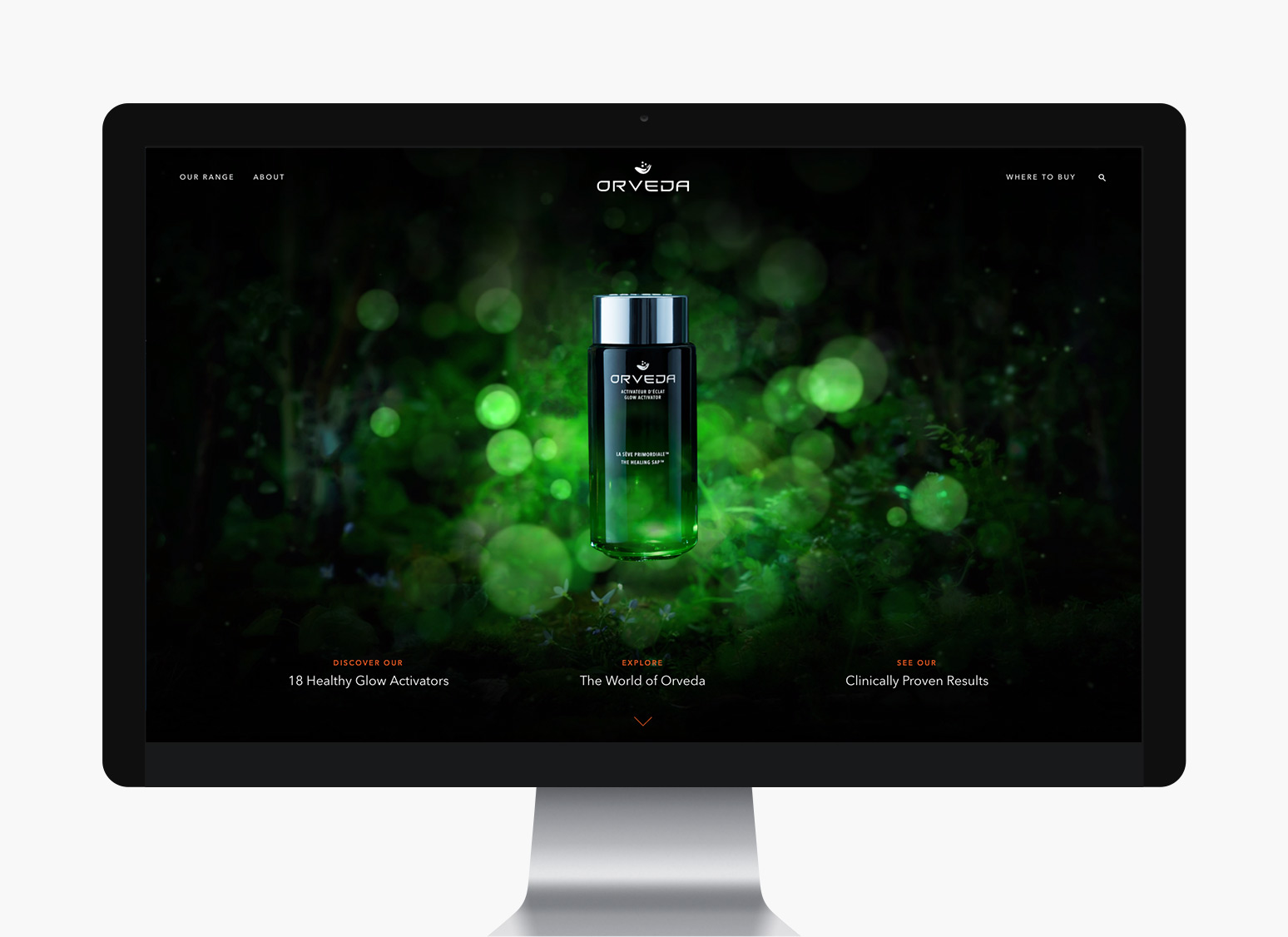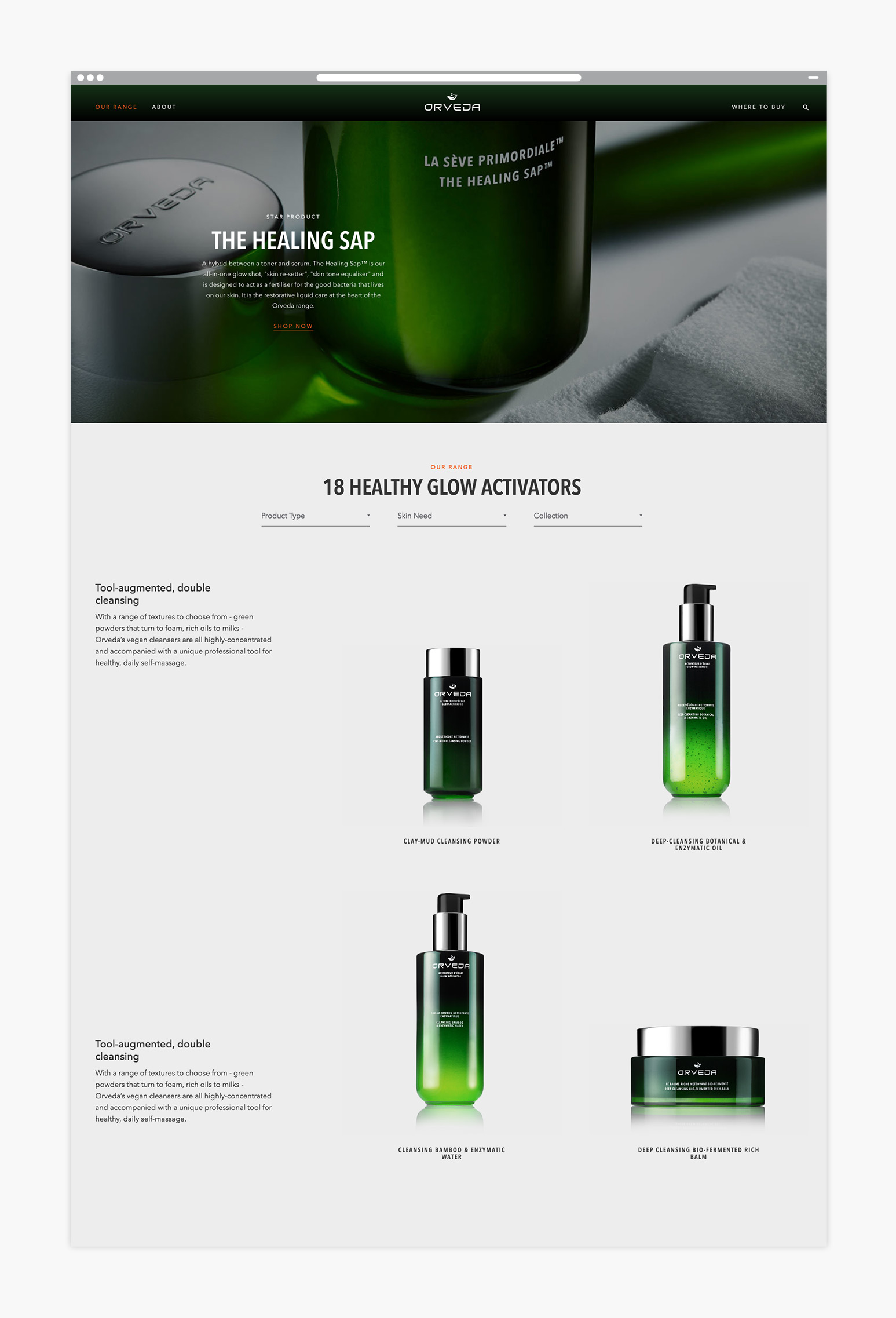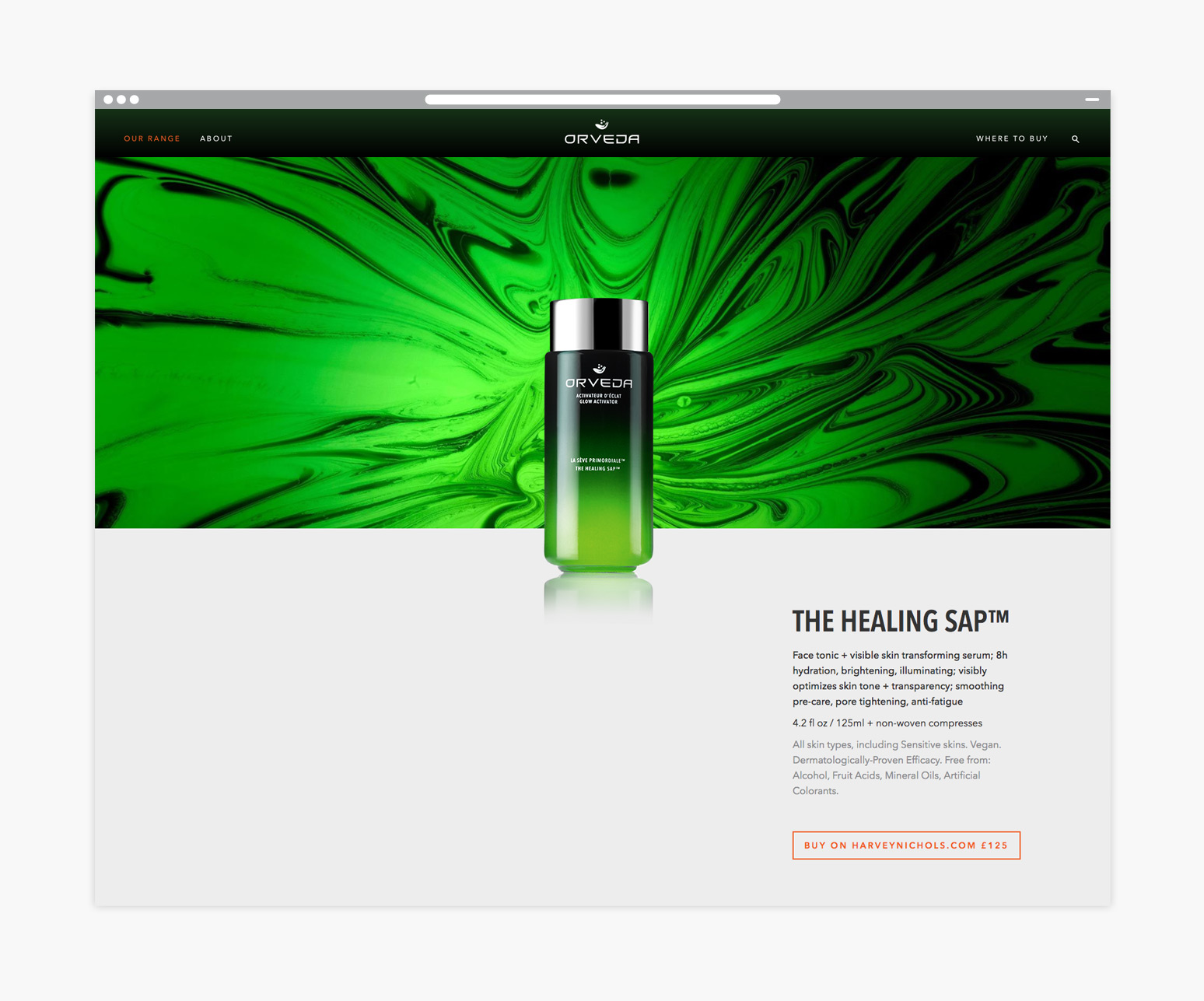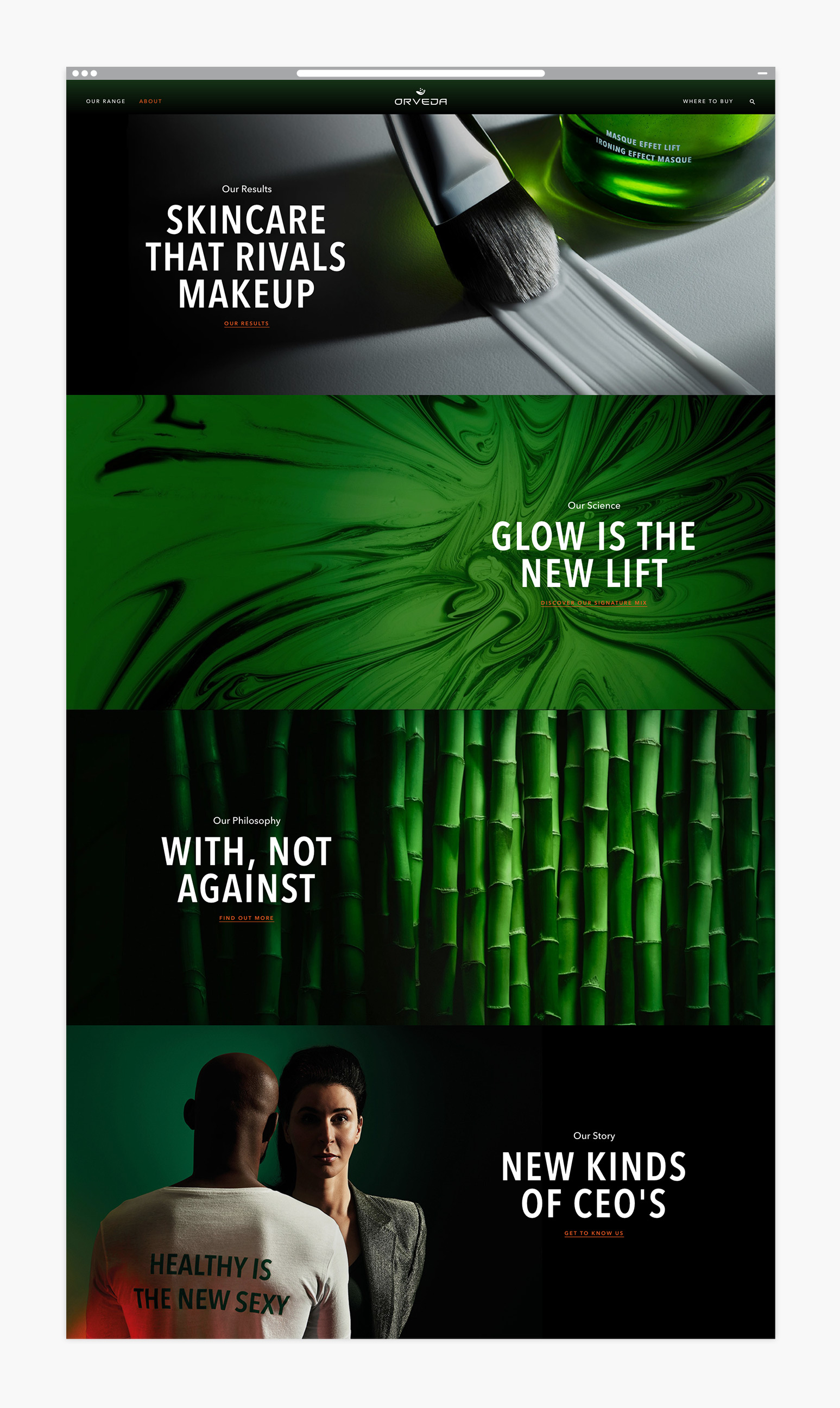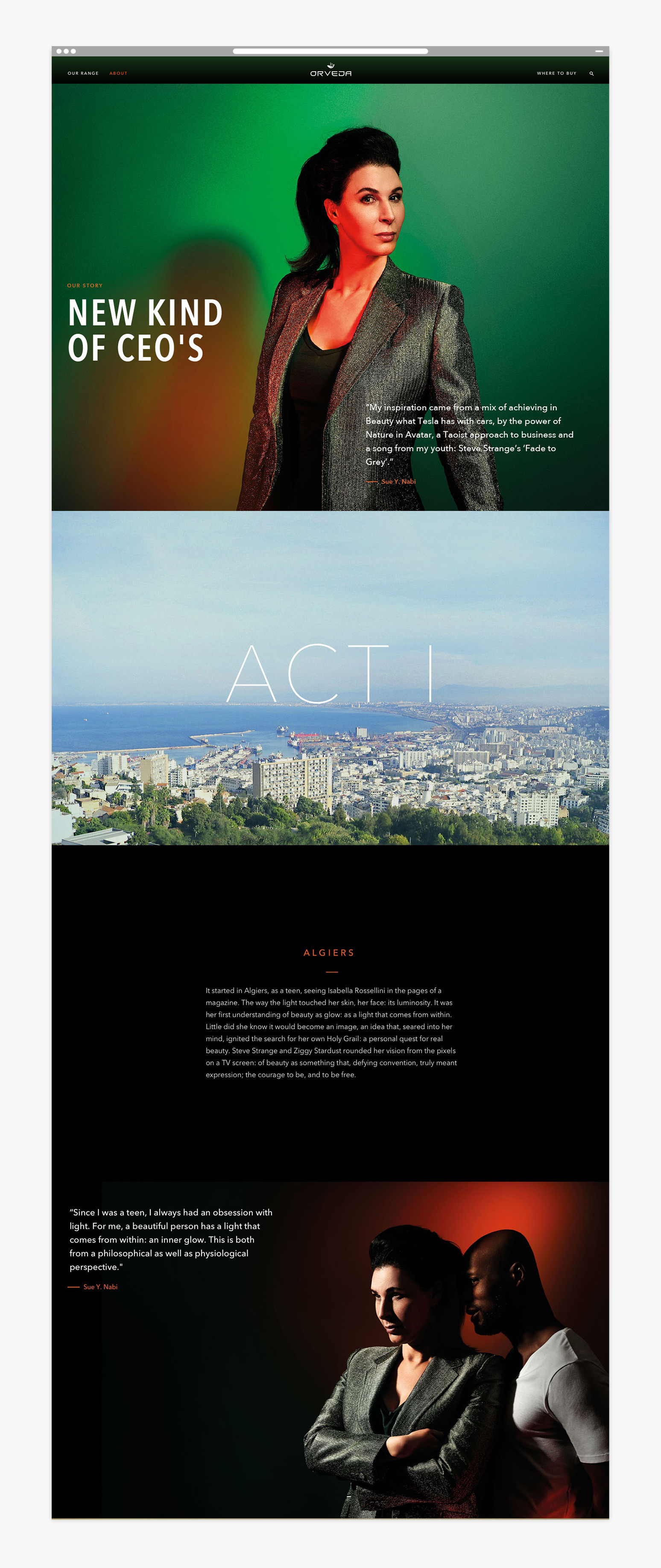 Created by beauty legend Sue Y. Nabi, who has been president of both Lancôme and L'Oréal Paris, and co-founder Nicolas Vu, Orveda is a new-age skincare range offering a healthy, holistic approach to beauty. The brand combines the ancient wisdom of traditional philosophies and the power of Nature with future-forward biotechnology to create highly active, healing formulations.
The online landscape of skincare tends to be clinical and white, with spotless scenes and perfect models. Orveda wanted to move away from this by not including shots of people or skin on their site, instead focusing on the meticulously sourced raw materials that set their products apart. For them, the connection with nature was an essential selling point and goes to the heart of their brand DNA. We wanted to respect this vision while ensuring the user experience was straightforward and robust.
Finding a balance that suited the brand's own Ayurveda-inspired approach, we decided to treat the content with two distinct looks and feels. The Product Range section is minimal and refined, with comprehensive filtering options and hover tools, and the individual product pages include sections on 'active ingredients', 'how to use' and 'visible results'. By way of contrast, the About section takes visitors into the world of Orveda via panels of rich full-screen cinematic imagery. The narrative of the brand's origin is written in a series of 'acts' rather than standard biography, and we chose a long-read format with parallax animation.
Additional functionality was built in to allow the site to evolve over time. This includes creating the long-read elements as content blocks in the content management system, so that the brand can build and edit these pages themselves. For the homepage we created an animated particle backdrop that sits behind the key product and can change as different products are featured. We also built a back-office tool for the sales staff at Harvey Nichols (the exclusive bricks-and-mortar Orveda stockist), allowing them to send customers a customised email follow-up after an in-store Orveda purchase. We spent a lot of time and attention on making the site as fast and light as possible, while maintaining a high visual standard. We also invested effort into making sure the code was optimised for SEO, and that visitor referralswere being tracked, whether coming from a beauty prescription email campaign, or social media share.