The Garnered
The Garnered is a new online shopping destination bringing together the worlds of fashion and fine craft, with a collection of hand-made products from the fields of textiles, ceramics, leather goods, glassware, wood design, jewellery, floral art and food. We were asked to create brand positioning and identity, accompanied by a fully functioning online retail platform that would bring the offer to market.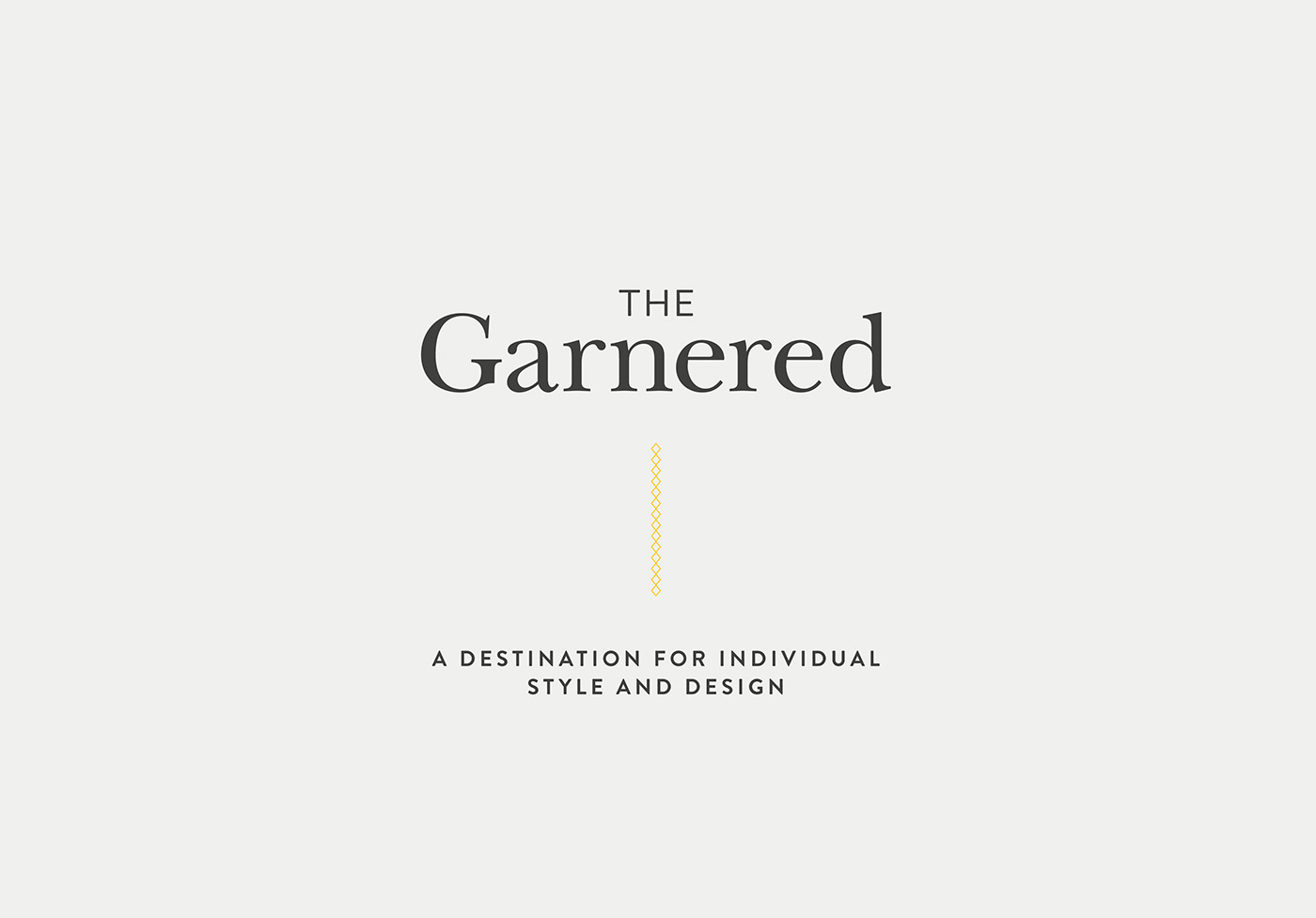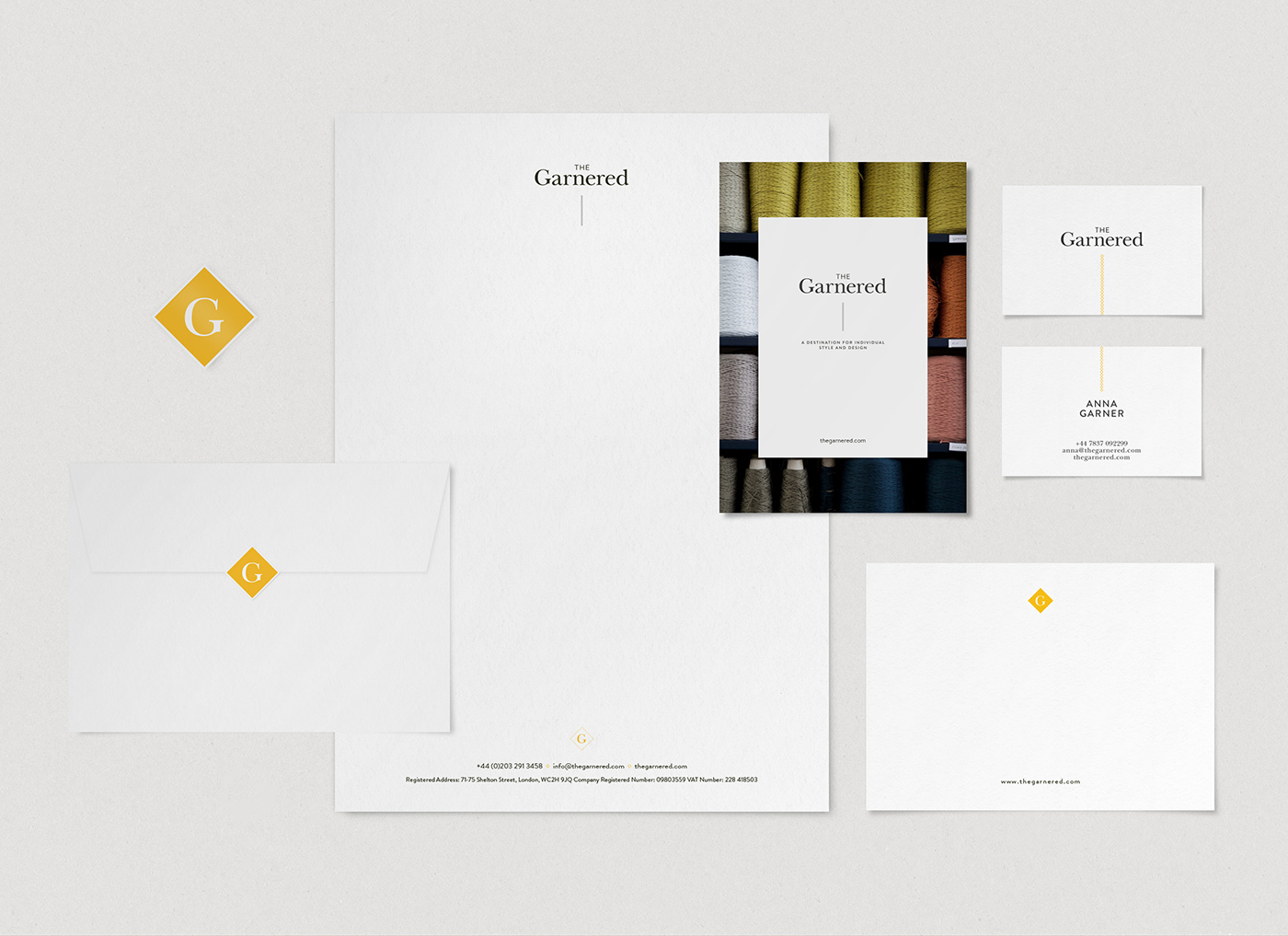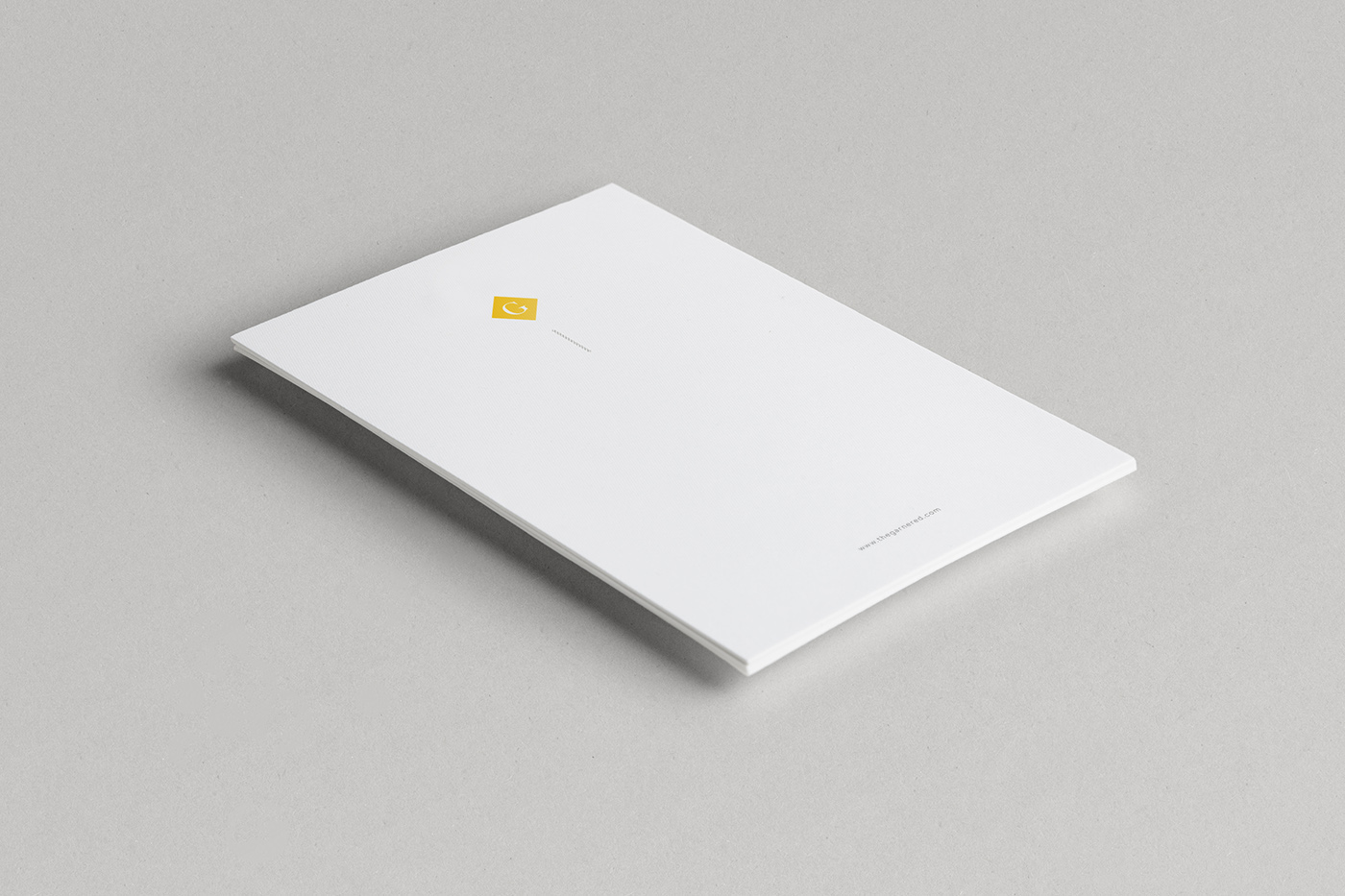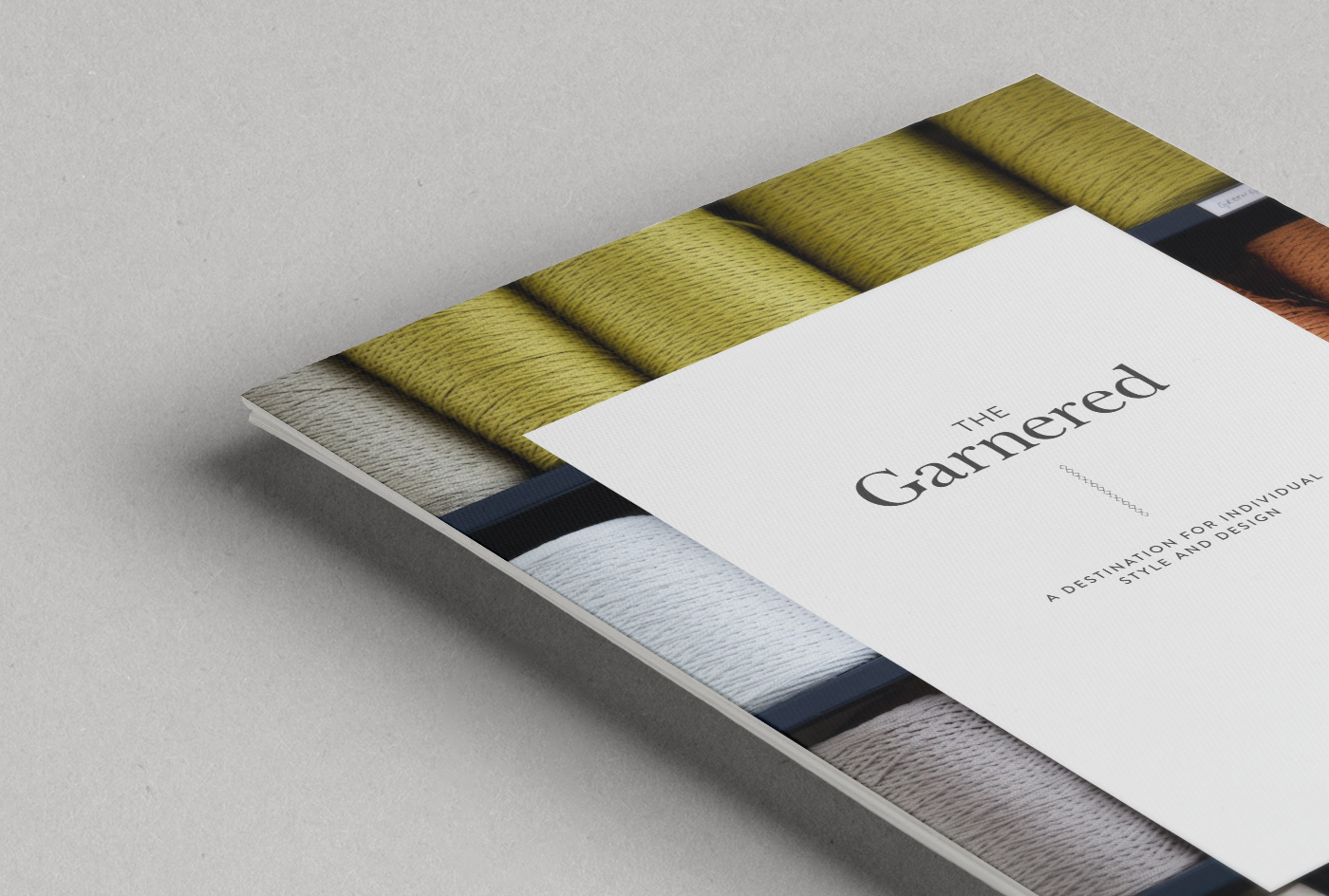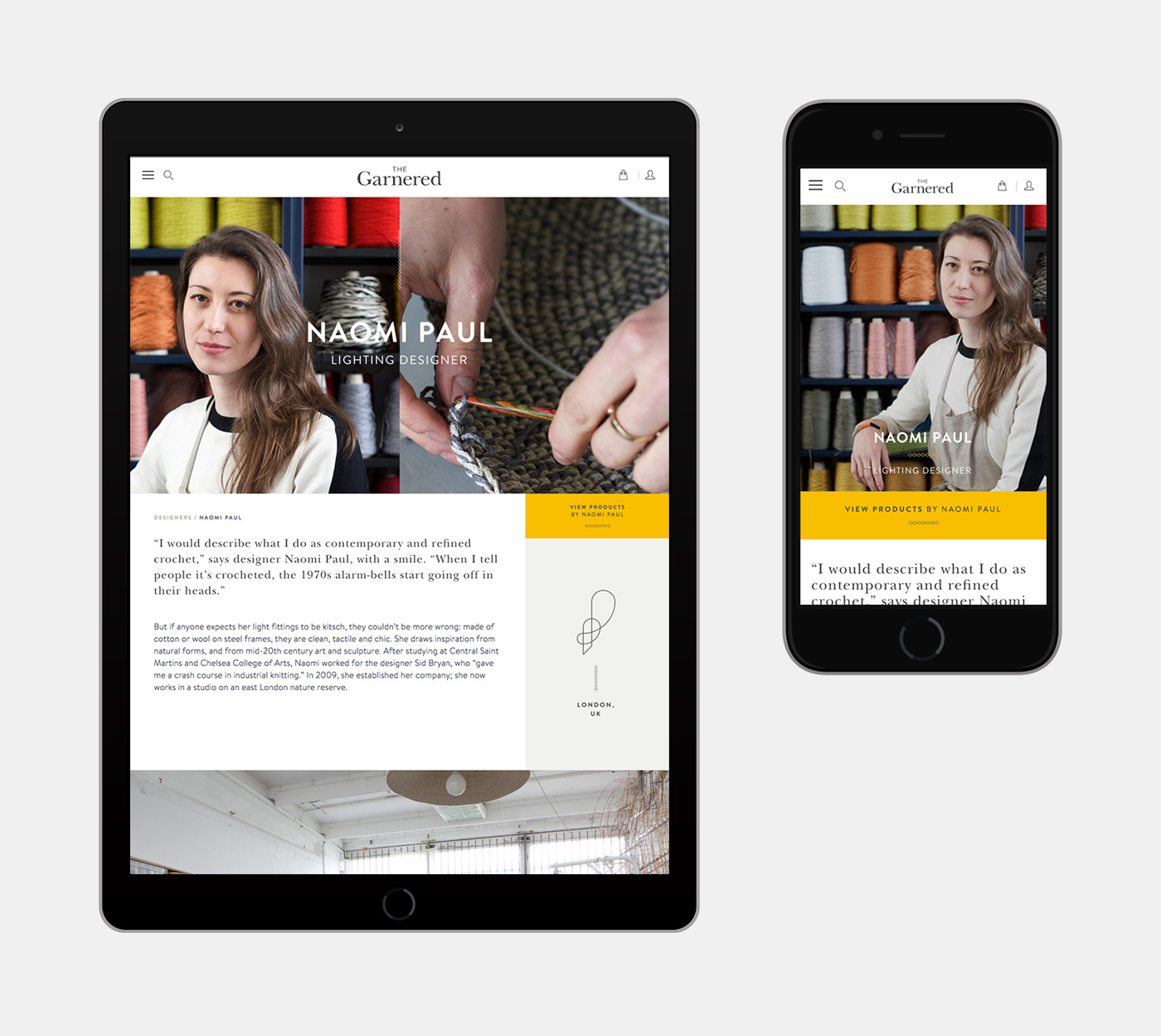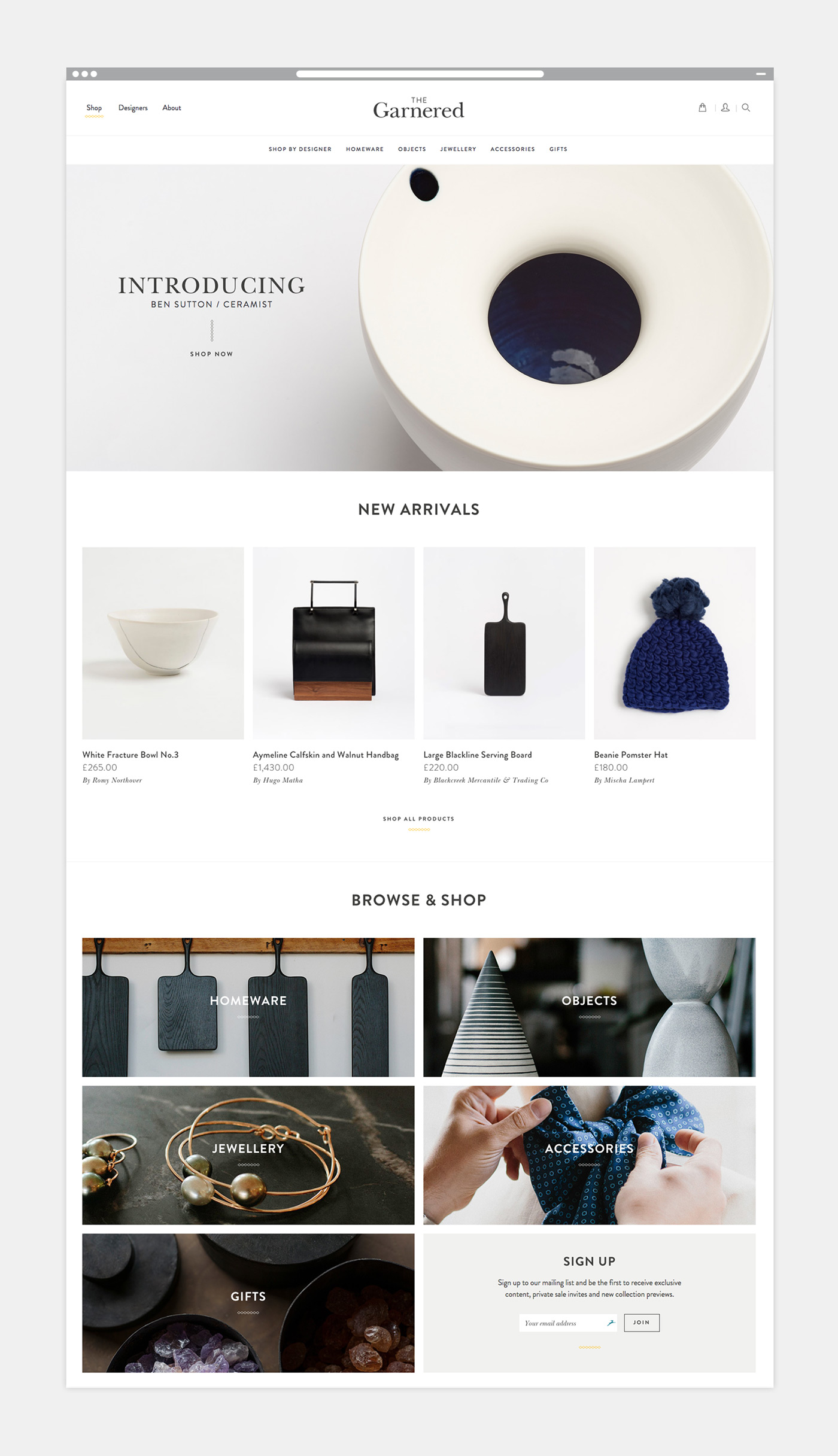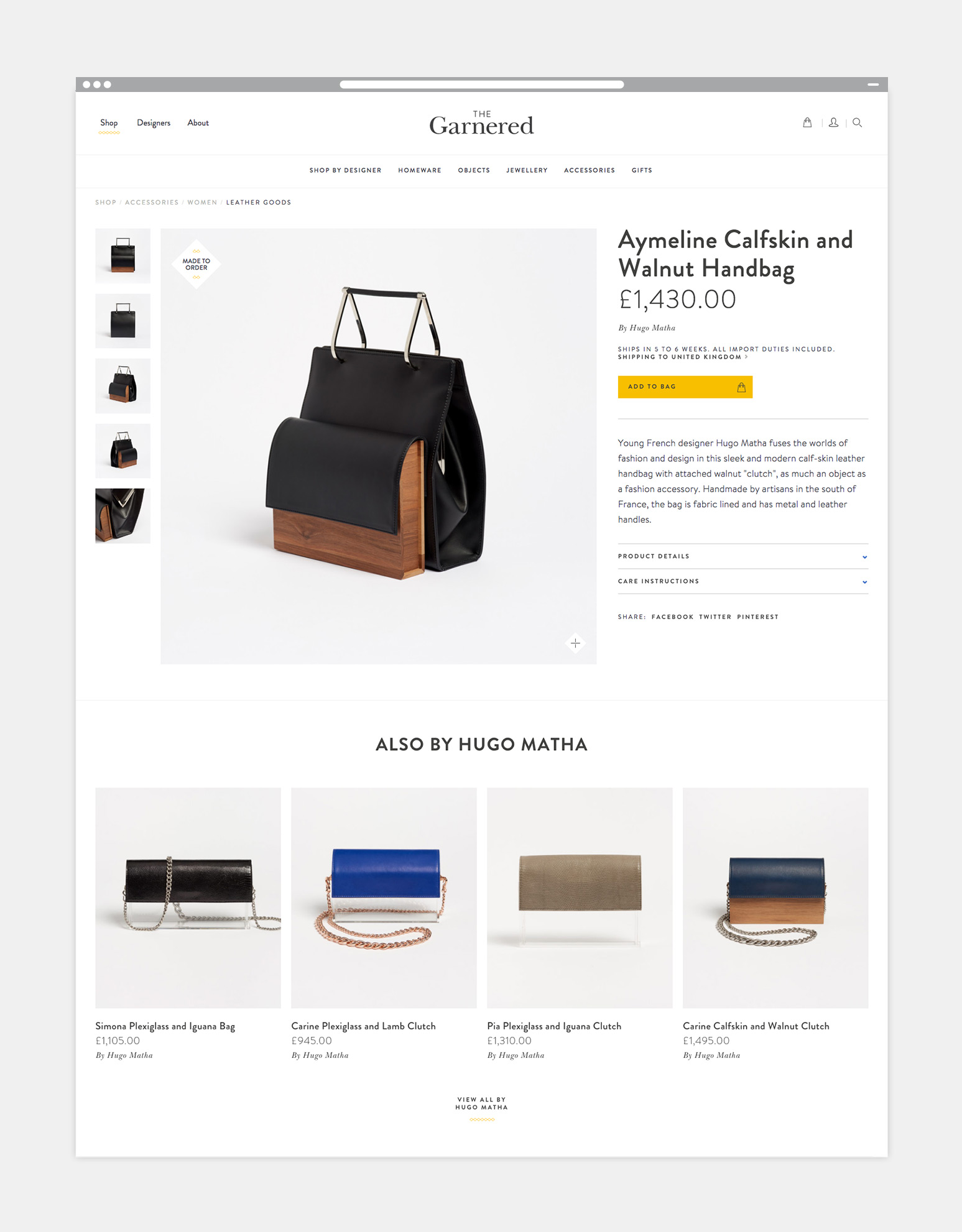 While offering a truly beautiful selection of products, a curated online store such as this is in itself not unique. So we set about building a collaborative relationship with the founder, ex fashion director Anna Garner, to really get under the skin of the values and vision behind the venture.
What we uncovered was a genuine desire to discover and nurture talent from across the globe and a commitment to really getting to know the people and processes behind each and every product it sells, offering customers unique access to diverse high-quality collections . It was this ethos that we placed at the heart of the brand, with the idea of creating valued connections – between makers and buyers, diverse products with shared finesse, the Garnered and its audience – becoming the driving principle.
We wanted to take customers behind the scenes and celebrate designers' expertise, from traditional skills to cutting-edge craftsmanship. With a personality that is worldly and inquisitive and has the warmth, charm and intelligence that portrays an investment in lasting quality.
High design values and a luxury sensibility are demonstrated through a simple and elegant logotype. Its modern sophistication and subtle sense of heritage enhanced by the use of typographic styling and a refined colour palette. While a cross stitched line comes to represent the hand-made and human connections – the common thread that acts as an assurance of quality and promise of fine craft throughout. A flexible visual asset, the thread can be used in a variety of ways to create visual juxtapositions that highlight the Garnered's meeting of fashion and fine craft. From stitching together imagery or typography that link parts of a story, or as a simplified shape.
Photography is used to capture not only the beauty of the products themselves, but the stories of their creation – once again connecting the audience with their origins – with a reportage style that reveals details of working processes and offers a glimpse into the ateliers of featured artists.
For a brand ultimately brought to life online, we created a website to showcase this brand expression – delivering content in an informed and engaging way. A design led solution, the homepage remains an obvious shop front while a series of flexible product page templates allow the feeling of a more bespoke layout for each artist – giving designers and makers a platform to share their stories in a way that befits their products.
Fully responsive across desktop, mobile and tablet, with a seamless ecommerce process backed by thorough testing, the user experience throughout delivers upon the expectations of a luxury brand. All together delivering on the brand's vision to become 'a destination for individual style and design' – a place for users to discover more about their purchases and where stronger emotional connections are forged, building greater brand engagement that will ultimately keep them returning time and again.
"I was drawn to One Darnley Road by the way in which the digital and branding teams work so closely together. The Garnered website required a vision that would be carried through from the logo to the user experience through to the email campaigns that we send. The teamwork of the agency has shone thorough as One Darnley Road has created an exemplary identity and website for The Garnered and I could not be more proud of what the teams jointly have achieved. "
Anna Garner, Founder of the Garnered.